Wind and solar energy are cheap, clean and abundant, but as more renewable energy is brought online to provide sustainable electricity, innovative new solutions are needed to ensure balance in the grid.
The storms experienced in global energy markets during 2022 may come to be regarded as a watershed for the roll out of renewable energy.
Prior to February 2022, much of the momentum behind the roll out of wind and solar resources came from the need to decarbonize energy supply to combat climate change. In the past year, however, ensuring a secure, independent and affordable supply has become just as important for many countries. They are increasingly turning to renewable sources, which are inexpensive, CO2 free and abundant, to achieve that.
In 2022, renewable energy sources including wind and solar accounted for more than 40% of electricity generated in the European Union1, an increase from 14% a decade earlier. With ambitious targets to source 42.5% of all energy – not just electricity – from renewables by 2030, there is far more to come2.
While these developments bode well for decarbonization, they present some challenges for the Transmission System Operators (TSO) that manage the electricity grids. The effective and safe management of an electricity grid requires that supply and demand – generation and consumption – are balanced at all times. Grid operators have achieved this historically primarily by adjusting production, essentially burning either more or less fossil fuels, depending on need.
Both solar and wind power are intermittent and therefore give neither the predictability nor control necessary for balance. Europe's wind turbines are operational for an estimated 75% of the time, and solar panels, for obvious reasons, for less than that.
Statistics from Fingrid (Finland's TSO) for the week beginning June 12 of this year, show both the variation in forecasts as well as that usage is at 55% of capacity of the 5,500 MW installed – as seen in the graph below.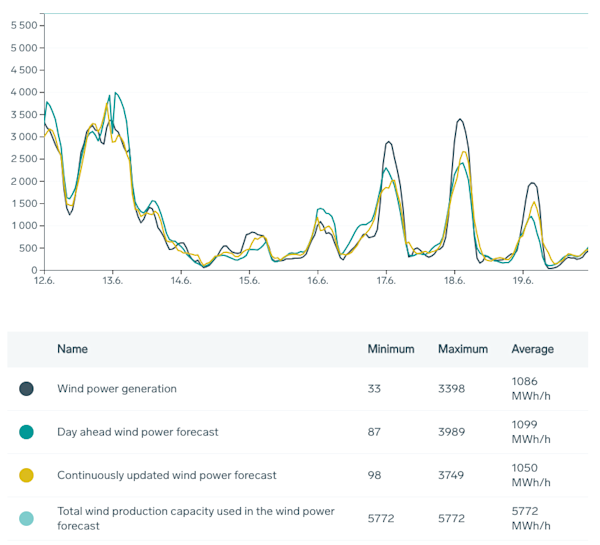 As adjustments on the production-side become harder, there is more pressure to harness flexibility on the demand-side and with dedicated flexibility assets such as batteries. New and innovative solutions, such as virtual power plants, are therefore required to make balancing the grid compatible with an energy supply increasingly dependent on renewable energy sources.
Distributed energy storage systems which harness demand-side flexibility by control of batteries, such as Elisa's DES, offer one such solution to this problem. By storing excess electricity generated during times of high wind or strong sun and releasing it when needed. In buffering the grid with stored energy, grid operators can better manage the variability of renewable sources and match supply with demand.
There are some challenges with implementing energy storage. One challenge is of the relatively high cost of the batteries itself, which is the dominant cost element. In the case of radio access network operators, however, this cost burden is partially covered in many cases.
As providers of critical infrastructure, most networks are required to have emergency back-up power, typically in the form of batteries hosted at the base station. Upgrading battery systems from lead acid to lithium-ion – and adding smart control systems and integrating to the reserve and balancing electricity markets – enables RAN operators to build a Virtual Power Plant on their network. When the operator upgrades its energy infrastructure into VPP, there are two financial benefits on top of the additional resilience it brings the network.
First operators can cut their own energy costs by optimizing their own electricity purchasing – essentially buying and storing more electricity when it's cheap and reducing grid usage by discharging batteries when it's more expensive. The flexibility capacity can also be packaged as services for the TSOs for grid balancing purposes. Balancing services include automatic frequency restoration reserve (aFRR) and frequency containment reserve for disturbances (FCR-D). The operator with VPP capability can access these markets for new revenue streams.
Another challenge is the need for a regulatory framework that enables distributed energy storage to participate in the electricity market – although there is evidence, in Europe at least, that regulators and TSOs are amenable to distributed solutions, and in many areas actively encourage new ways of providing balancing services.
Following its trial with 200 base stations in Finland in the summer of 2022, Elisa received the technical pre-qualification acceptance from Fingrid for its Distributed Energy Storage solution to provide balancing services in a specific balancing market, the "automatic frequency restoration reserve", or 'aFRR'.
Our understanding is that this was the very first time anywhere in the world that a distributed solution has been approved for the aFRR market which are traditionally served from hydropower or natural gas plants.
On top of the financial and resilience benefits, in our Finnish network the full roll out of DES should reduce our carbon footprint based on system level marginal emission calculations by more than 20,000 of CO2 every year proving the solution is good for business, good for the grid and good for the planet!
Author:
Jukka-Pekka Salmenkaita, VP AI and Special Projects and head of Distributed Energy Storage at Elisa.
Read more: