Elisa in brief
Elisa is a pioneer in telecommunications and digital services. We serve approximately 2.8 million consumer, corporate and public administration organisation customers, and have over 6.3 million subscriptions in our extensive network. Cooperation with Vodafone and Tele 2, among others, enables globally competitive services. Our core markets are Finland and Estonia, and we also provide digital services for international markets.
As a responsible Finnish market leader, our operations are guided by continuous improvement. Elisa is a forerunner in implementing new innovations and technologies, and is leading the way in 5G introduction. Elisa has set ambitious Science Based
climate targets
. We have been carbon neutral since 2020.
Elisa is listed on the Nasdaq Helsinki Large Cap with approximately 167,000 shareholders. In 2022 our revenue was EUR 2,1 billion. Majority of of our revenue comes from telecommunication services for consumer and corporate customers.
Today we employ over 5,600 professionals in over 20 countries internationally.
Elisa's unique strategy generates profit and growth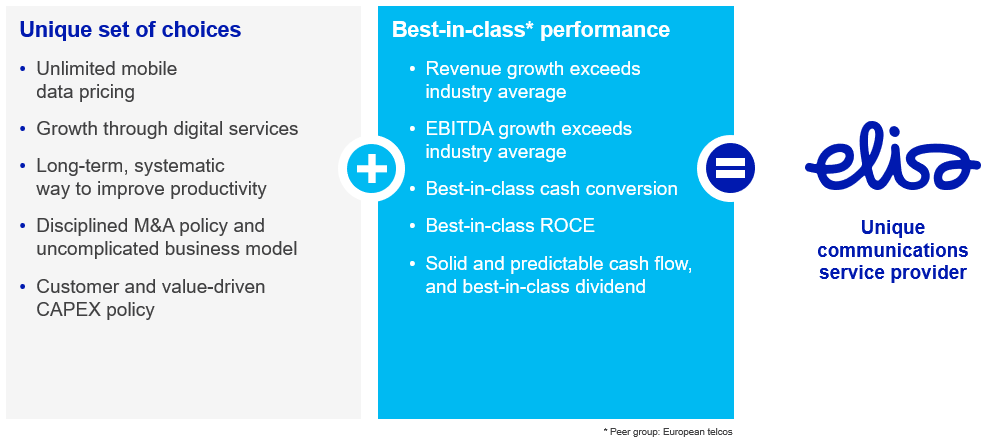 Finland is advanced in many telecommunication areas, like fixed to mobile migration, as well as mobile data consumption. Elisa has offered unlimited mobile usage since data services were available. Elisa's pricing model is almost unique. The pricing is based on speed rather than gigabytes. High quality networks and intelligent data management has enabled this model and it has led to highest mobile data usage per customer in the world.
In the fixed network business the fibre connections are increasing, because they offer higher speed, capacity and quality. Both mobile and fixed services are supported by high quality networks and IT systems.
Elisa focuses also more and more on new digital services, where growth rate is higher than in telco services. This portfolio includes e.g. visual communication services, entertainment services, IoT and automation services, and cloud based IT services.