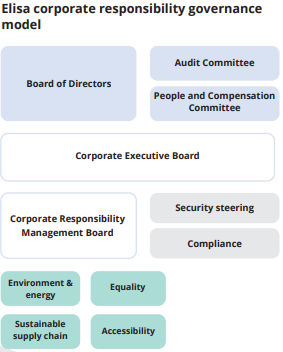 Management
Material aspects of sustainability
are regularly discussed and approved in the Elisa Corporate Responsibility Management Board, Elisa Executive Board and the Board's Audit Committee. Elisa's
Board of Directors
confirms and signs annual responsibility report, including non-financial information. Chief Financial Officer, Director of Human Resources and Director of Administration account for economic, social and environmental topics in the
Elisa Corporate Executive Board
.
Risk management
Risk management is an essential part of Elisa's internal control system. It aims to ensure that risks affecting the company's business are identified, influenced and monitored. The company classifies risks into strategic, operational, insurable and financial risks. The material sustainability risks and mitigation methods are introduced within each sustainability area.
KPIs and reporting
Sustainability is one of Elisa's strategic goals and one of our scorecard indicators. We have also determined
goals and indicators
for the four sustainability areas, which we report annually in our
sustainability report
. From Q1 2022 Elisa has published the key sustainability indicators also in the interim reports.